We teach our children about British values throughout the school year, taking advantage of events in the news and our curriculum to help them become modern citizens. The DfE has reinforced the need 'to create and enforce a clear and rigorous expectation on all schools to promote the fundamental British values of democracy, the rule of law, individual liberty, mutual respect and tolerance of those with different faiths and beliefs'
At St Mary's Cockerton Primary school we have reflected on what 'British Values' means to us and agree that our mission statement and ethos encompasses and promotes all that is expected and to which we aspire everyday. We want our school community to be proud of, and value, where they come from and have a shared understanding of what it means to live and learn in Britain. We seek to nurture this in all we do and ensure that we actively promote mutual respect and value of every person. We believe our Christian mission leads us to understand British Values to be:
Mutual respect and tolerance
Individual Liberty
Democracy
Rule of Law
We endeavour to provide a rich curriculum and learning opportunities to enable all pupils to better understand and live according to the values of our nation and, therefore, contribute to our society and the world community as a whole. Moreover, in our caring, Christian community, we seek to nurture the spiritual and moral self in every individual, so that they can fulfil their true potential, valuing themselves and others, in all they do. Through prayer, school rules, worship, work, and play, we build upon our welcoming Christian ethos, promoting a culture of respect and love for people, from all backgrounds.
We do this by:
Having a coherent set of school rules, which are recited daily, with a clear consequence and reward system
Encouraging pupil to make decisions on a micro (self) and macro (whole class/school) level, not least with regards to behaviour
Promoting a specific Christian value each term, giving pupils a focus of how to respect themselves and others
Charitable works, such as fundraising for different charities, chosen by the children, and contributing to national awareness days.
Education about, and tolerance of, our own faith, and the faiths of others, with 'real' experiences and opportunities to explore religion and beliefs
Teaching the children to look after themselves and others through E-Safety, anti-racism and anti-bullying days
Opportunities to make democratic decisions, such as our School Council members and their election, in which all pupils vote for their representative
Strong links with local PCSOs, police, firefighters, and other key figures in the community
Celebrating our British Heritage and other local historical events
In this way, through celebration of diversity and promotion of respect for all, we believe our pupils value themselves, others, and the world around them, living out their own Christian vocation, as well as according to the values of principles of our nation.
British Values Week 2018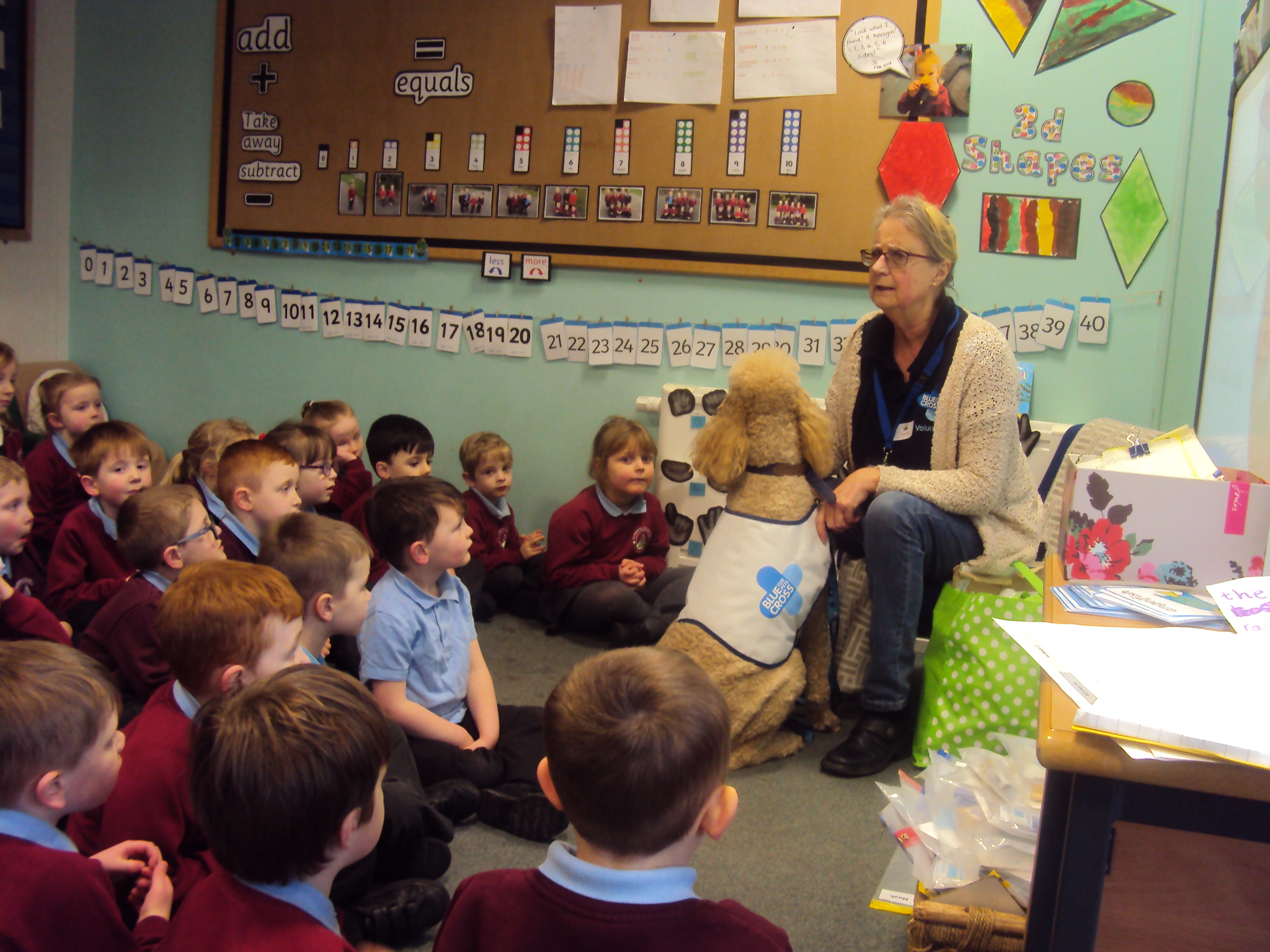 We had a visit from the Blue Cross animal charity to talk to us about how to be safe around dogs and the importance of charity work in the community. The children found out why it is important for us to look after each other and be charitable. The children in Reception also had a personal visit from a specially trained dog called Sol, who works with Hillary in the community.
We had a visit from a Magistrate, who talked to the children about the rule of law, what happens when you break the law and why we have different laws. She explained to the children about the different courts systems and about some of the cases that she has heard throughout her active years of service. She also talked about how laws are made and about the history of the courts in the United Kingdom. She even showed us her British Empire Medal!
Three Police offers came into school to talk to the children about the role of the Police in keeping us all safe. They talked about the methods they use in positive policing: coming into schools, helping people in need and being a positive presence in the community. They explained that they never want children to think that they have to run away from a Police Officer. They want people to run to Police Officers if they feel like they need help! They talked about how we all have responsibilities to be good citizens and it's only when people aren't good citizen, that they need to get involved - to protect everyone!
Tolerance of other Faiths
We had faith visitors from the Darlington Community Group in to talk to our children and explain about their beliefs, their cultures and their communities. The children learned lots from our visitors, who explained all about what it is like living in Britain for them. Tolerance and understanding was a massive theme across all religions and all of our visitors talked about the fellowship of faith - togetherness - that make us all similar. Love was the overarching theme, regardless of their faith. It was lovely to celebrate how much we all have in common!
Tolerance of Different Ethnicities
We have been looking different languages in school, particularly Mandarin Chinese. We have learnt about how different people live in very cultures to our own and how some people live in modern Britain. We have talked about how variety and differences are to be celebrated and how we need to be tolerant of all people.