Special Educational Needs and Disability (SEND) report
Our SEND Report:
Click through below to read out SEN Information Report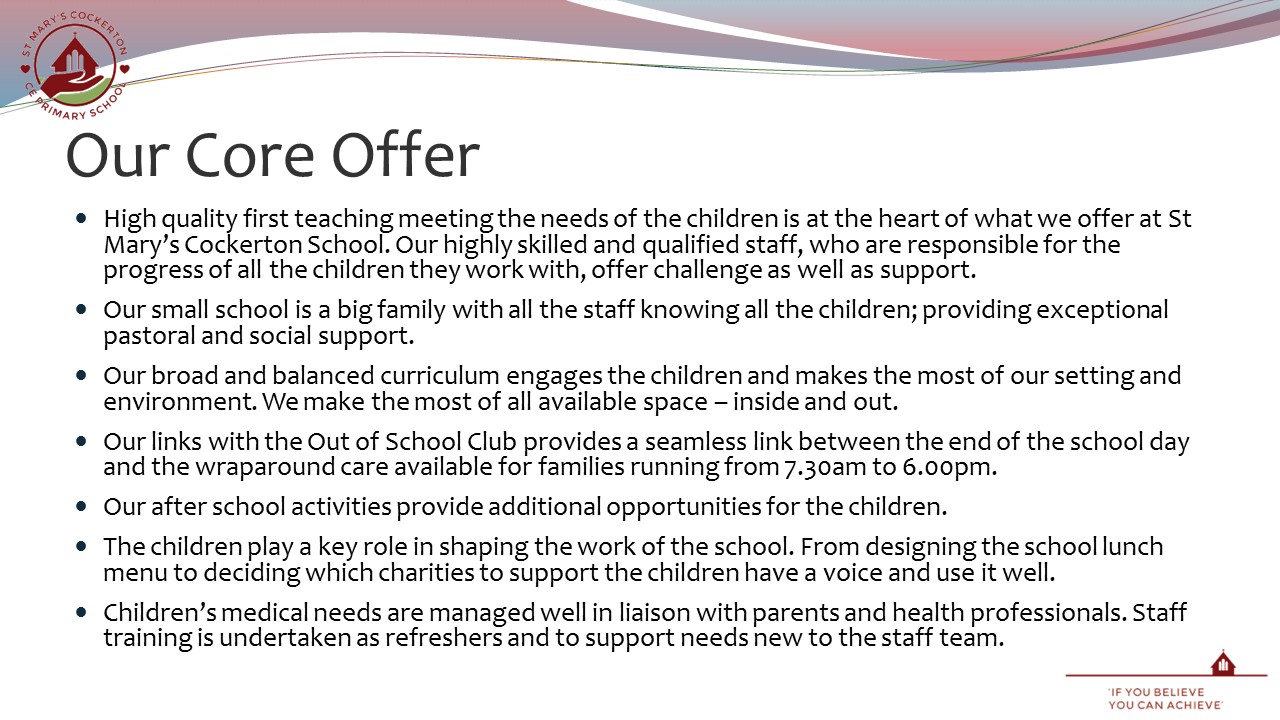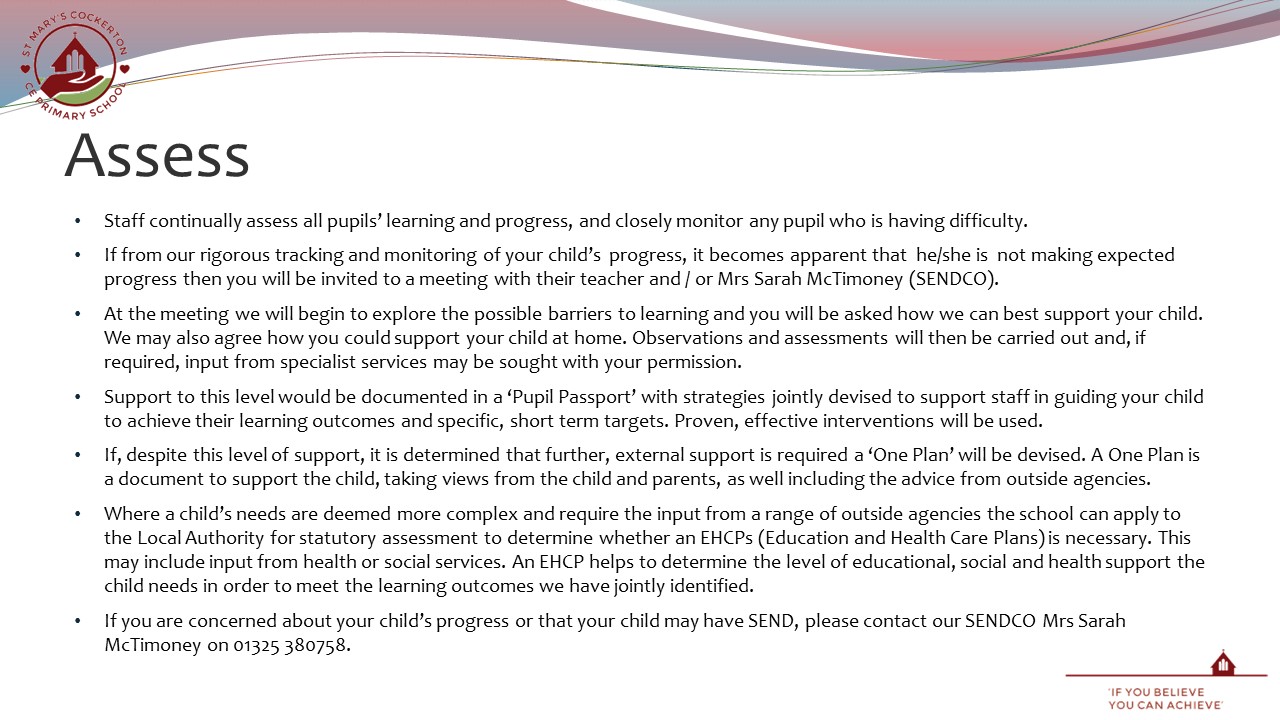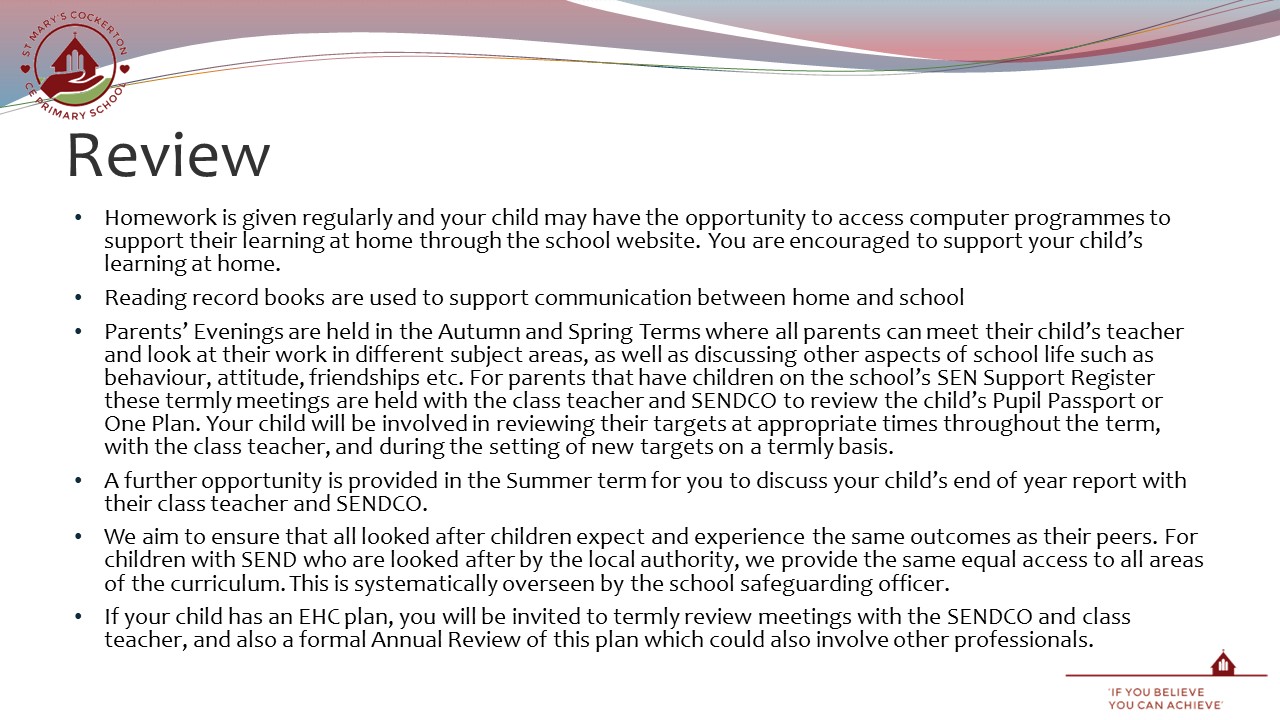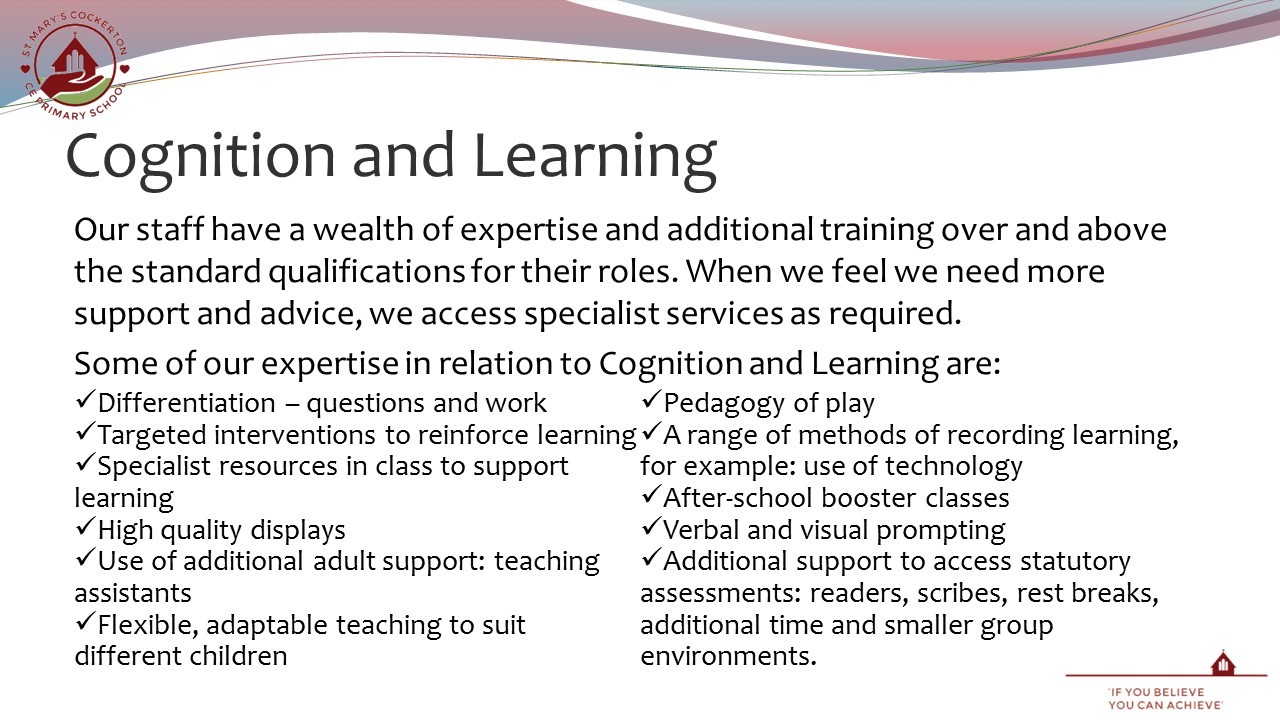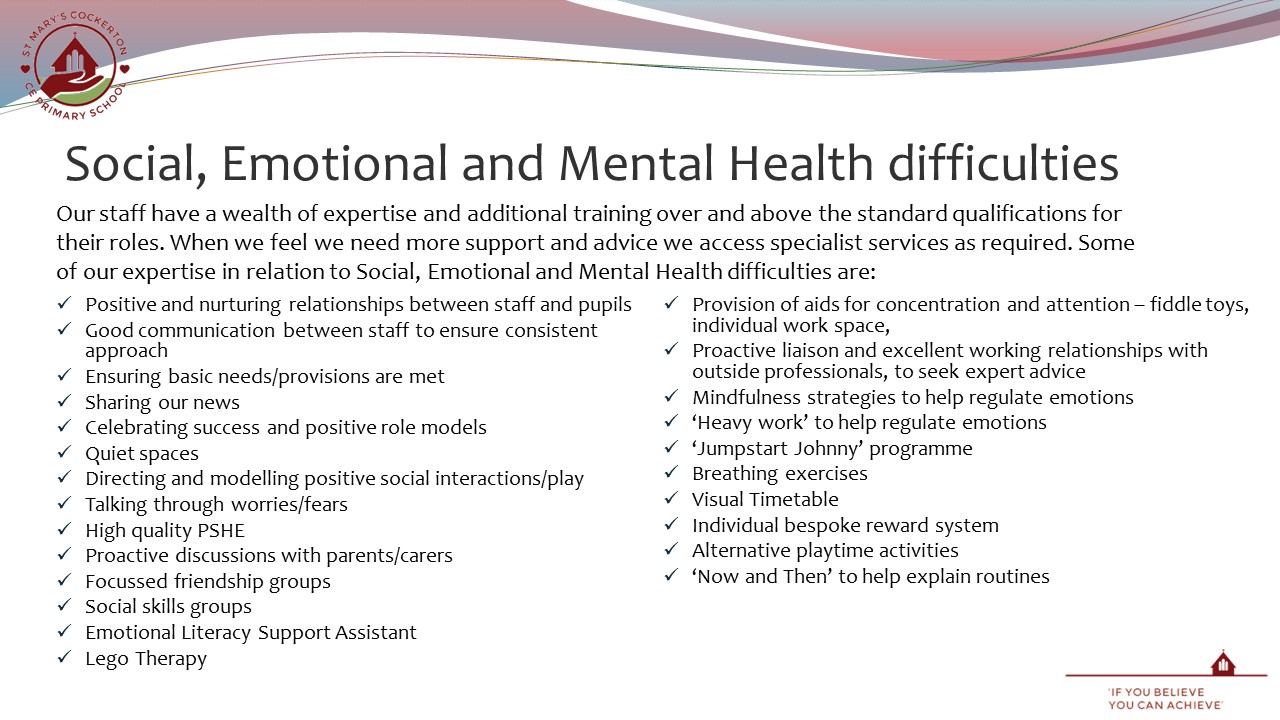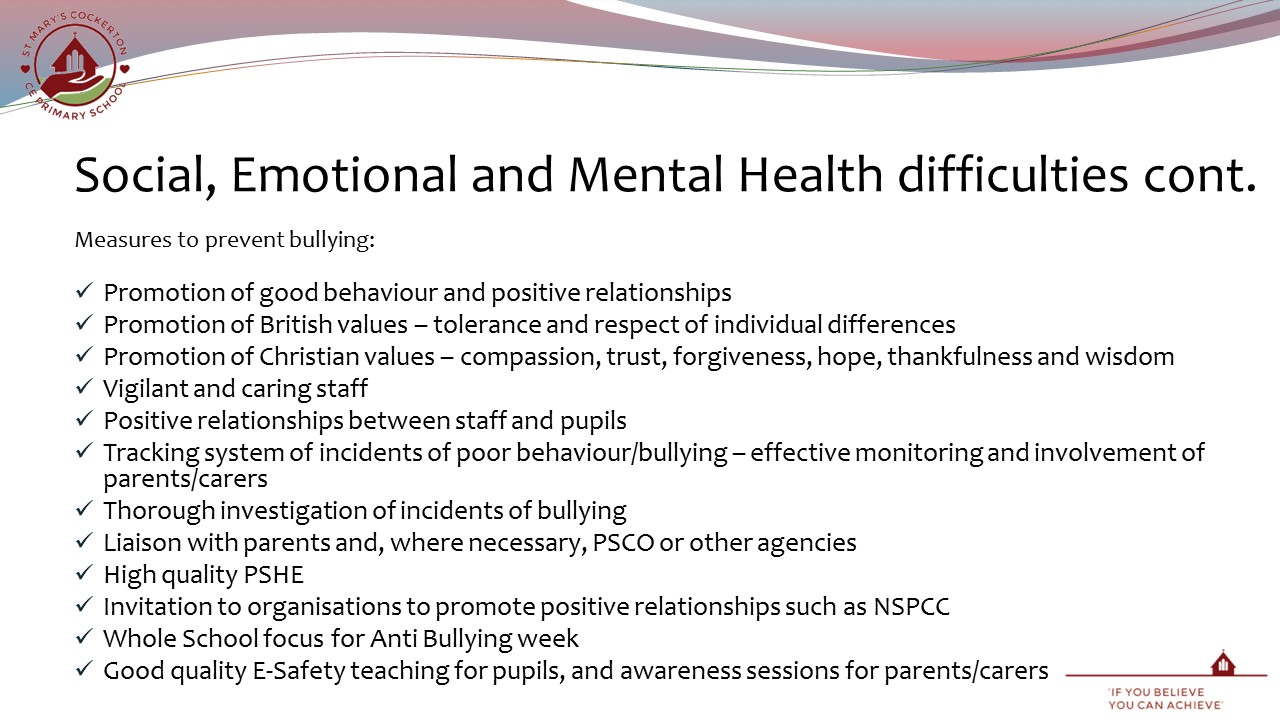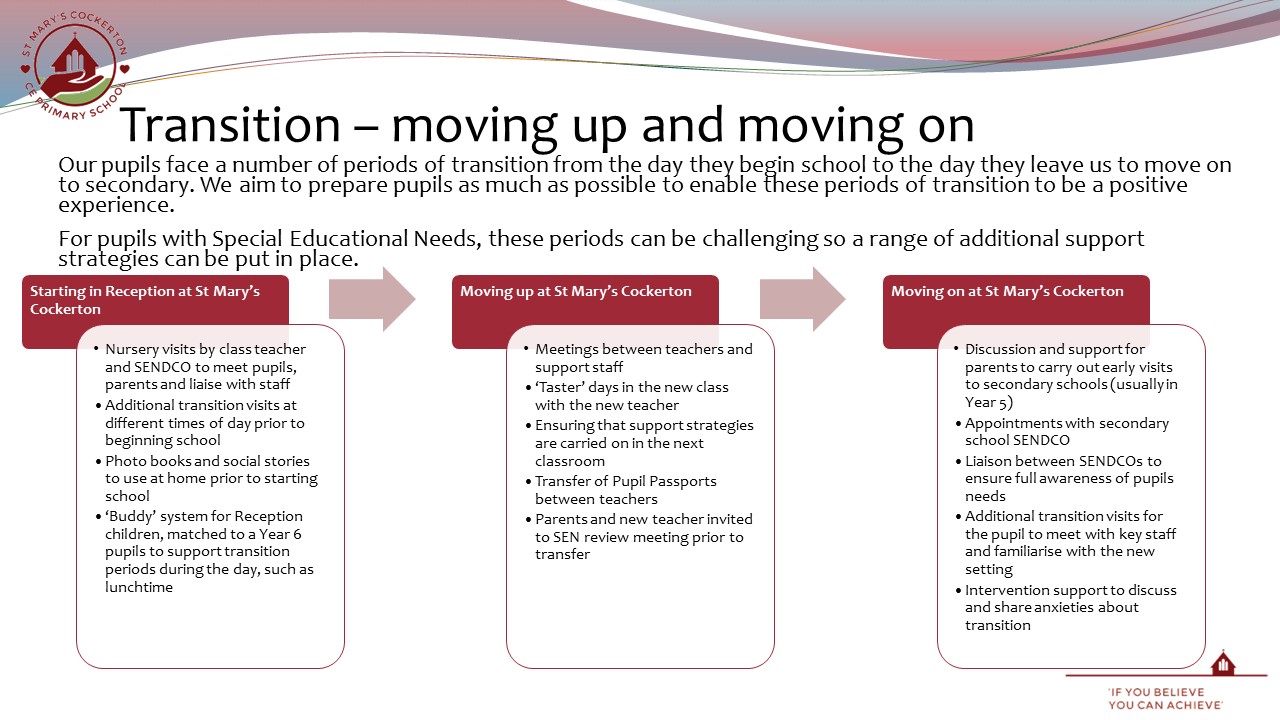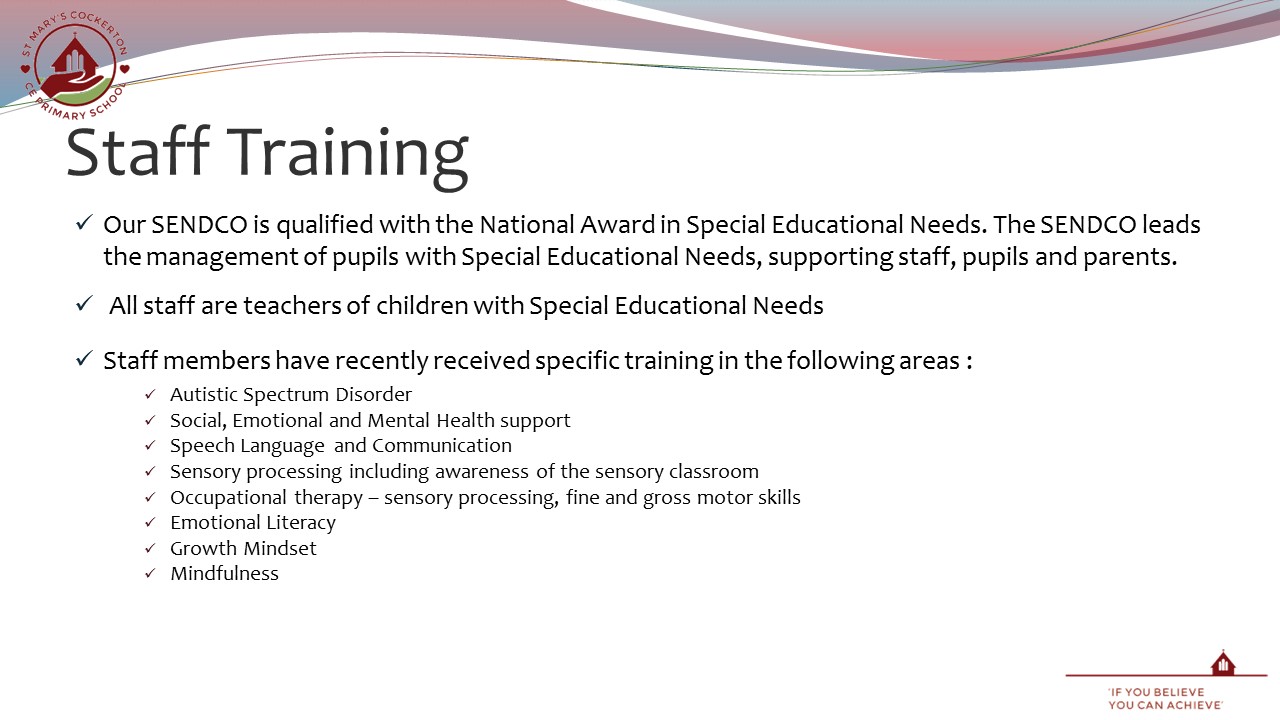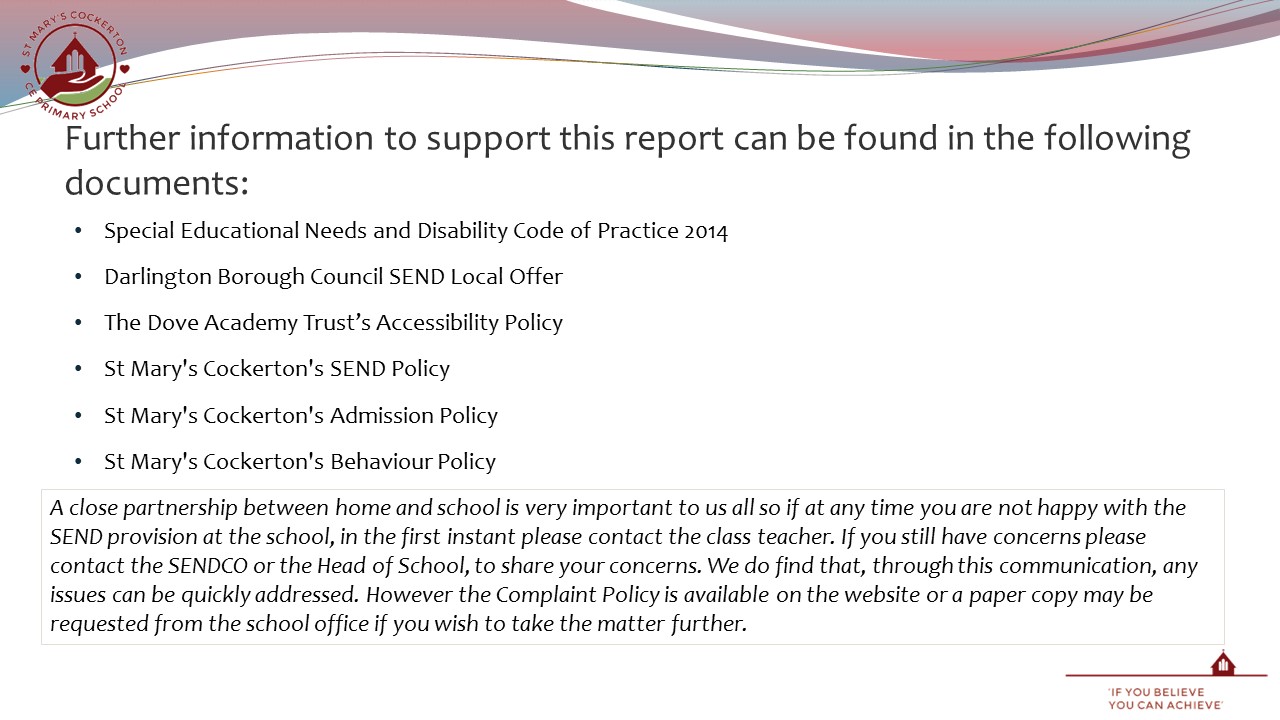 Meeting Individual Needs
Every pupil is important to us and is recognised as an individual with particular needs. Staff have worked very hard to develop approaches within and beyond the classroom which mean that the learning needs of all pupils can be met.
Pupils with additional learning needs
The school caters for pupils with a range of additional education needs, so that they can access all areas of the school curriculum.
Gifted and talented pupils
Pupils with particular gifts or talents in any subject area will find many opportunities to develop these within their regular lessons.
Admissions
At St. Mary's Cockerton we look at the educational barriers of a pupil with special educational needs or disabilities and, in liaison with all other agencies involved with the pupil, develop an individual education plan, which will allows for children to achieve their full potential.
Access
St. Mary's Cockerton is fortunate in that it is a modern building with 100% accessibility for any person with physical disabilities.
Staff Expertise
We have a number of staff who have undertaken training in the following areas:
implementing Additional Literacy Strategy work

implementing Additional Numeracy Strategy work

working with children with Hearing Impairment

working with children with Speech, Language and Communication needs

working with children with Visual Impairment

working with children with Autistic Spectrum Disorder

working with children with Specific Learning Difficulties (dyslexia, dyspraxia and dyscalculia)

working with children with Attachment Disorder

working with children with Down's Syndrome
Other Services and Agencies We Work With
Educational Psychology - the school works with the local authority's service and buys a private Educational Psychologist

Dyslexia Action - we work with dyslexia action to undertake specialist assessments, to obtain advice and to provide training for staff

We access training and specialist support for pupils for Occupational Therapy

Speech and Language Therapy

Darlington's Social and Communication Outreach Service

CAMHS (Child and Adolescence Mental Health Service)

Health - advice on medical needs and child development from the community paediatrician and school nursing team
Who to contact at St. Mary's Cockerton Church of England Primary School regarding Special Educational Needs
If your child has special educational needs or a disability and you would like to know more about what we offer at St Mary's Cockerton contact Mrs S McTimoney (Inclusion Leader and SENDCO) on 01325 380758 or e-mail us at admin@stmaryscockerton.org.uk.