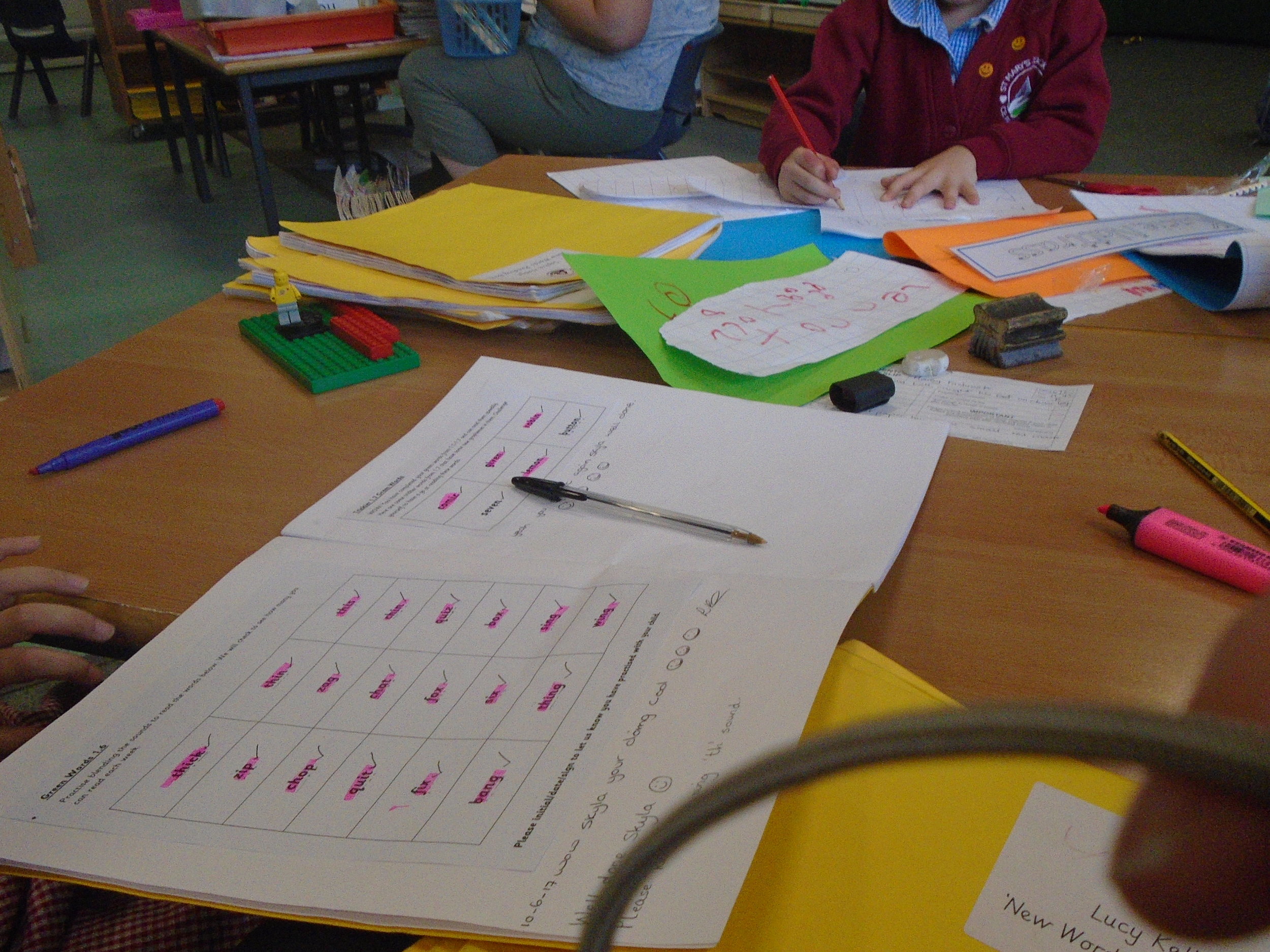 How we teach English: Reading & Writing in school
In school, we teach English on a daily basis and we strongly believe that being a good reader helps to make a good writer. We want the children to enjoy reading and writing and use this base to become well-rounded independent learners.
Reading
What / How will your child read in school?
We begin to teach reading and spelling in school through Read, Write Inc. Phonics. Read Write Inc (RWI) is a phonics based programme which helps children learn to read whilst also developing a wide range of vocabulary and encouraging a love of stories. It was developed by Ruth Miskin and more information on this can be found at www.ruthmiskinliteracy.com .
Who is Read Write Inc. for?
The Read Write Inc. programme is for primary school children learning to read. Children will begin the programme in Year R and will remain on the programme until they are reading at an appropriate level in Year 2. Our aim is for most children to be off the scheme by the end of Year 2, however some children will remain on a modified intervention scheme in Years 3 and 4.
As the children move through school, they will experience a variety of reading activities in school:
• They may be given opportunities to read individually from reading scheme books
• They may read with the class during the 'shared' part of the daily English lesson
• They will read with their teacher or teaching assistant in a group during 'guided reading'
• They may read during quiet reading sessions, where they may be encouraged to read silently or share a book with a partner
• They will also be given the opportunity to read during other curriculum areas
Writing
When will your child write in school?
We never stop writing in school! It is an important part of children recording what they have learned and demonstrating their understanding of a topic.
The children learn about how to write in different genres in English. They write both non-fiction and fictional texts. They then use these skills when writing in other subjects. For example, the children might learn about writing a diary entry in English and then use this skill in a history lesson.

The youngest children look at mark marking, holding a pencil correctly and writing in full sentences.

The children use interesting an exciting texts to base their own writing on. Class teaches base an English topic around a range of stimuli: picture books, stories, objects or their own writing.
In order to ensure the progression of writing throughout school, we aim to follow a clear structure throughout the children's journey as writers: from mark making and storytelling in reception right through to independently writing their own stories, recalling and telling tales and using writing for a given purpose in Key Stage 2.
We are developing an approach to writing adapted to suit our children and our approach to teaching. As a school, we want children to continually build upon their skills year on year in a consistent approach with the key theme being:
This is how we write at St. Mary's Cockerton.
Not "This is how we write in my class". As a teaching staff, we want the children to be independent writers and be able to self regulate their understanding of the writing process. We do this through a process called IPEELL. Through developing independence and confidence, our children should develop the skills needed to succeed in their given year group; lower attaining children are supported; and higher attaining children can thrive.
The children plan their writing, thinking about the purpose of the text, the audience that are going to read it and the text type that should be used. Parents at home can help their children understand this by talking about the different things that they read and when they might need to put pen to paper (or type something out).
The children also self assess their work and get feedback on what they need to do in order to independently edit and improve their work. We all plan our writing and assess our writing in the same way across school to make sure that we are being consistent.
10 Tips on Hearing Your Child Read
As parents you are your child's most influential teacher with an important part to play in helping your child to learn to read.
Here are some suggestions on how you can help to make this a positive experience.
1. Choose a quiet time
Set aside a quiet time with no distractions. Ten to fifteen minutes is usually long enough.
2. Make reading enjoyable
Make reading an enjoyable experience. Sit with your child. Try not to pressurise if he or she is reluctant. If your child loses interest then do something else.
3. Maintain the flow
If your child mispronounces a word do not interrupt immediately. Instead allow opportunity for self-correction. It is better to tell a child some unknown words to maintain the flow rather than insisting on trying to build them all up from the sounds of the letters. If your child does try to 'sound out' words, encourage the use of letter sounds rather than 'alphabet names'.
4. Be positive
If your child says something nearly right to start with that is fine. Don't say 'No. That's wrong,' but 'Let's read it together' and point to the words as you say them. Boost your child's confidence with constant praise for even the smallest achievement.
5. Success is the key
Parents anxious for a child to progress can mistakenly give a child a book that is too difficult. This can have the opposite effect to the one they are wanting. Remember 'Nothing succeeds like success'. Until your child has built up his or her confidence, it is better to keep to easier books. Struggling with a book with many unknown words is pointless. Flow is lost, text cannot be understood and children can easily become reluctant readers.
6. Visit the Library
Encourage your child to use the public library regularly.
7. Regular practice
Try to read with your child on most school days. 'Little and often' is best. Teachers have limited time to help your child with reading.
8. Communicate
Your child will most likely have a reading diary from school. Try to communicate regularly with positive comments and any concerns. Your child will then know that you are interested in their progress and that you value reading.
9. Talk about the books
There is more to being a good reader than just being able to read the words accurately. Just as important is being able to understand what has been read. Always talk to your child about the book; about the pictures, the characters, how they think the story will end, their favourite part. You will then be able to see how well they have understood and you will help them to develop good comprehension skills.
10. Variety is important
Remember children need to experience a variety of reading materials eg. picture books, hard backs, comics, magazines, poems, and information books.
The Oxford Owl Website has lots of information about how reading is taught in school through phonics and comprehension.